The First Presbyterian Church of the Covenant offers opportunities to Sing and to Ring – All to the Glory of God.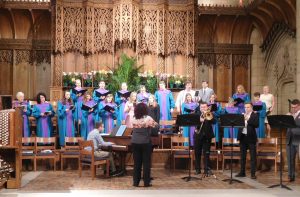 Due to the coronavirus pandemic, all pre-COVID-19 music related activities at First Covenant are cancelled until further notice.
However, there are Music Ministry opportunities. It's about getting creative during a pandemic. Check out the opportunities below or if you have an idea contact Monty Service at [email protected]
Virtual Choir – for anyone / all ages. Record your part in advance to create a "choir" together.
Join a virtual congregational singing of Jesus Loves Me. For directions and information contact Monty.
Praise Band – smaller configurations of instrumentalists / singers
Kids / Youth – chimes / hand bells on Sundays – see Kids/Youth schedule
Vocal / Instrumental Solos – have a talent to share in worship? Offer your gifts!
**************************
The choirs at First Covenant participate in Sunday morning worship from September through May. New members are always welcome. New singers and ringers are encouraged to join at anytime. Special music is selected for Advent & Christmas, and Lent & Easter. The choirs and bells take a summer break during June, July and August.
Adults:  The Covenant Choir rehearses on Wednesdays in the music room at 7:15 p.m.  Interested to see what choir is all about?  Come and find out! NEW MEMBERS ARE WELCOME! The Covenant Bells rehearse Wednesdays at 6:30 p.m. in the Sanctuary.
Praise Band: Do you have an interest in playing an instrument or singing in a band? This group is open to all and we would love to have you come and join in the fun we are having! We are learning new music and working together to add another style of music to what we offer at First Covenant. We will rehearse directly following the 11:00 a.m. worship service on Sunday mornings. Contact Monty Service in the church office or at

[email protected]

 
Youth: Greater than the Sum, for grades 6-12, meets on Sundays directly after Youth Group from 5:45-6:30 p.m. in the Sanctuary. All are welcome regardless of previous experience! Please feel free to come with suggestions for music that helps you to feel and explore your faith. This group will continue to sing, ring bells and explore a wide variety of genres and instrumentation as we together explore the music that the Spirit uses to speak to us.
Kids: Music/Faith Formation hour for ages 4 through 5th grade is from 9:30-10:30 a.m.on the third floor on Sundays. All are welcome! The music will both reinforce the lessons taught.
Junior Ringers: A chimes group for kids younger than 6th grade meets on Wednesday nights from 6:00-6:30 p.m. (directly following Connections Dinner) in the music room. We will begin with activities that all ages can participate in and work together to make a joyful noise!

Missional Music Opportunity: We have been using music to welcome our Sunday Supper and Covenant Connections guests.  If you are interested in sharing your gifts during these times, whether it be vocal or instrumental, one song or a set of music, a solo or group, please contact Monty Service.
Solo Opportunities: Throughout the year there are numerous opportunities to share your musical gifts. First Covenant members and members of the community are encouraged to contact First Covenant Choirmaster & Organist Leslie Weber to present a vocal or instrumental offering during Sunday worship services.
If you have an interest in music, contact Leslie Weber, Choirmaster & Organist, at [email protected] for adult music or contact Monty Service, Coordinator of Missional Music, at [email protected] for children, youth & missional opportunities.